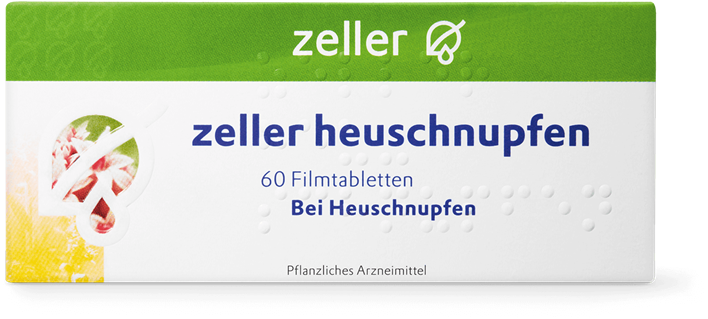 zeller anti-hay fever
zeller anti-hay fever – the unparalleled herbal anti-allergic medication for hay fever.
Also helps with a blocked nose.
Anti-allergic.
DOES NOT CAUSE TIREDNESS.
BOTANICAL.
Available without prescription in pharmacies and drugstores.
This is an authorised medicinal product. Read the patient information leaflet.
Max Zeller Söhne AG, 8590 Romanshorn
Product information
Application area
zeller heuschnupfen is used for the treatment of
Hay- fever (allergic rhinitis)
As well as related symptoms as:
Red eyes
Itchy eyes/ nose
Running nose
Irritations of the throat
Dosage / application / packaging sizes
Adults and adolescents from 12 years of age
Twice a day one film coated tablet
In cases of high pollen exposure the dosage may be increased to 3 times 1 film coated tablet per day if needed
The film coated tablet should be swallowed unchewed with some water
The tablet intake does not depend on day-time or meals
Package sizes:
20 film coated tablets
60 film coated tablets
Active ingredients
One film coated tablet contains a carbon dioxide-extract made from Petasites hybridus leaves (Ze 339), corresponding to 8 mg of petasins.
Zeller products
Discover our range of over-the-counter products.