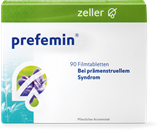 prefemin®
prefemin® is a herbal medicine containing an extract of monk's pepper.
BOTANICAL.
WITH MONK'S PEPPER.
1 TABLET DAILY.
Buy online
Available without prescription in pharmacies and chemists.
This is an authorised medicinal product. Read the patient information leaflet.
Max Zeller Söhne AG, 8590 Romanshorn
Monk's pepper (lat. Vitex agnus-castus) is a medicinal plant for mitigating PMS symptoms. It can relieve both physical and psychological symptoms of premenstrual syndrome. Monk's pepper is also traditionally used to regulate the menstrual cycle, for instance when menstruation is too frequent or too infrequent.
Premenstrual syndrome (PMS)
Premenstrual syndrome (PMS) refers to a combination of physical and emotional symptoms that some women may experience in the days or weeks before menstruation. It is important to note that not all women experience PMS and that the symptoms and their severity can vary from woman to woman.
The exact causes of premenstrual syndrome are not yet fully understood. One reason could be that the women affected are hypersensitive to the normal hormonal fluctuations during the menstrual cycle.
The syndrome can include disorders such as headaches, skin problems, a slight feeling of tightness in the breasts, abdominal discomfort as well as mood swings, irritability, nervous tension, moodiness, tiredness and sleeping problems.
Product information
Application area
prefemin® is used for premenstrual complaints such as:
Headaches
Skin problems
Mild breast tenderness
Abdominal discomfort
Mood swings
Irritability
Nervous tension
Disgruntled mood
Fatigue
Sleep problems
prefemin® is also used for:
Menstrual cycle disorders
Active ingredients
1 film-coated tablet contains the following active ingredient:
20 mg Ze 440 dry extract of monk's pepper fruit (Agni casti fructus)
Zeller products
Discover our range of over-the-counter products.