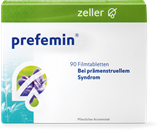 prefemin®
prefemin® is a herbal medicine containing an extract of monk's pepper.
BOTANICAL.
WITH MONK'S PEPPER.
1 TABLET DAILY.
Available without prescription in pharmacies and chemists.
This is an authorised medicinal product. Read the patient information leaflet.
Max Zeller Söhne AG, 8590 Romanshorn
Product information
Application area
prefemin® is used for premenstrual complaints such as:
Headaches
Skin problems
Mild breast tenderness
Abdominal discomfort
Mood swings
Irritability
Nervous tension
Disgruntled mood
Fatigue
Sleep problems
prefemin® is also used for:
Menstrual cycle disorders
Active ingredients
1 film-coated tablet contains the following active ingredient:
20 mg Ze 440 dry extract of monk's pepper fruit (Agni casti fructus)
Zeller products
Discover our range of over-the-counter products.